SolidWorks is a solid modelling computer-aided design (CAD) and computer-aided engineering (CAE) computer program. You can divide its function into two parts:
The first part is a 3D modelling interface with tools and commands like Extrude and Revolve where you can use computer aid to work on any design and make vast assemblies with absolute certainty that everything fits together and that you have a sustainable design. In Solidworks software you can work with surfaces as well with solid base modeling options. SolidWorks is a solid modeler, and utilizes a parametric feature-based approach to creating models and assemblies.
The second part consists of a 2D approach which can be used for the creation of drawings' previously designed 3D parts, as well as assemblies. It has options such as exploded view and simulation of assembly, where you can see how it's made and of what it consists. Parameters refer to constraints whose values determine the shape or geometry of the model or assembly. It has all standard parameters that can be used for creation of the aforementioned, such as line lengths or circle diameters; or geometric parameters, such as tangent, parallel, concentric, horizontal or vertical, etc. It can also give the relations to another geometric aspect in assemblies, in that way more easily and accurately analyzing the design, which allows the engineer to capture the design intent. That basically means that if the engineer wants to change some geometry on a completed design, he/she can do it with ease, by simply changing fundamental relations, and correspondently everything that is affected with these relations will adapt and change. This is probably the most important feature in computer aided design. People often do not use this approach because it can be complicated in assemblies that consist of many parts (for example, assembly of a internal combustion engine), and it is easier to just examine parts and as you see that something doesn't fit, then you change every part individually. That is not the proper method, and you don't maximize the potential of the software if you don't follow guidelines for properly making a design; especially today when designs often need significant changes, and you need to have a design that you can change quickly by request and be sure that it is solid.
Building a model in SolidWorks usually starts with a 2D sketch (although 3D sketches are available for power users). The sketch consists of various geometry, and if combining them correctly, you can get any shape or form needed. Usually you can approach a task in many ways. Again, it is crucial that you always choose the most efficient approach. Here you can see the difference between someone who knows how to use commands of the software and someone who thinks ahead and has an engineering approach to things - always trying to do something better.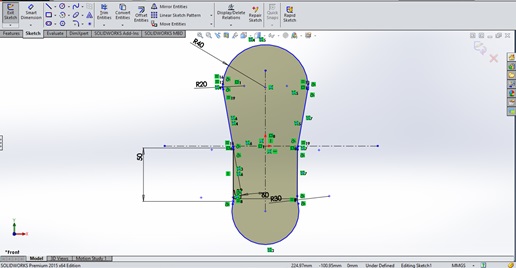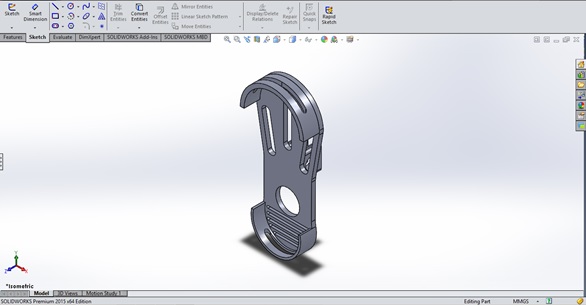 In an assembly, we have mates that we can use for giving proper relations. We also can relate some parts which are moving dependant on one another, so we have gear assemblies and can see how they are behaving in a particular design. This is allowing the most efficient construction of assemblies.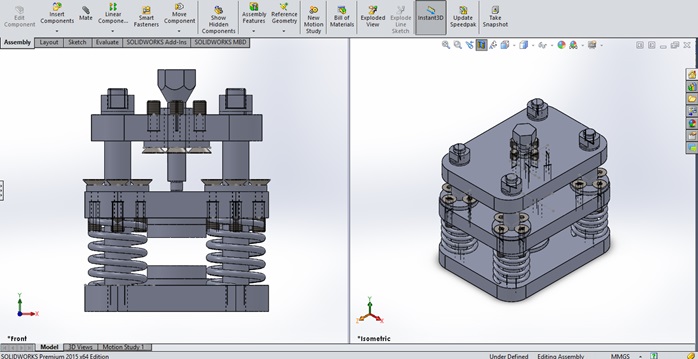 As for the drawing, it has basic tool commands, but most importantly the drawings of parts created in Solidworks are automatically generated from the same, and if you change something in a 3D model, it is automatically updated on the drawing. You can also add lines or shapes onto the drawing independent of the model. The drawing module includes most paper sizes and standards.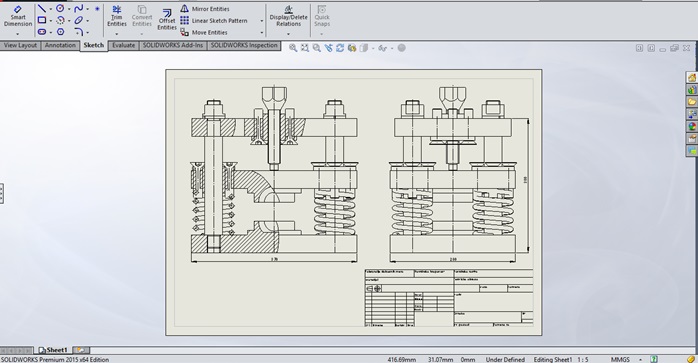 If you need assistance with SolidWorks courses or just drawings in general, we provide SolidWorks tutoring both online and through homework help with qualified tutors who cover other engineering programs as well. Our tutors are made up of teachers at the college level, graduate students, and professionals in the engineering field.
Our tutoring and homework help model is built to help you whenever you need it. To use our homework help service, all you need to do is fill out our submit form letting us know your due date and upload any supporting documents and materials. Our tutors will respond to your request, sometimes in minutes! They will give you a quote based on how long it will take to complete the assignment. Once you receive your quote you are free to discuss the quote and any concerns with your tutor. There is no obligation with our service. We want you to feel comfortable with the tutor of your choosing.
You have the option to choose a specific tutor from our selection of SolidWorks tutors or you can submit your tutoring request so that all SolidWorks tutors can see it.
Our tutors are available 24/7 in our Tutor Center! Each tutor can assist you in both live tutoring sessions and homework help at any academic level, from bachelor's degrees to doctorates.

If you have a specific SolidWorks assignment that you are having trouble with, we also have SolidWorks homework that has been completed. You can use past assignments as guidance for completing your current SolidWorks homework. Our homework library is a vast collection of completed homework assignments so that you can find the right content to fit your needs.
To fulfill our tutoring mission of online education, our college homework help and online tutoring centers are standing by 24/7, ready to assist college students who need homework help with all aspects of SolidWorks. Our engineering tutors can help with all your projects, large or small, and we challenge you to find better SolidWorks tutoring anywhere.
Read More