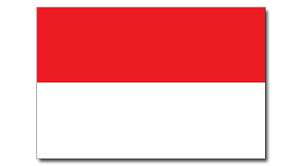 As many of us undoubtedly know, the official language of the country of Indonesia is Bahasa Indonesia, which is essentially a dialect of the Malay language. Indonesia is a very large and diverse country, with the 4th largest population on the planet (after China, India and the USA). It is, however, an island state, spread over numerous islands just north and north-east of Australia. A common language was needed to guarantee inter-ethnic communication among all the various groups that make up the Indonesian nation, and Bahasa Indonesia is playing this role.
Different ethnicities that populate the country have their own languages, and some of them possess a long and rich literary history and carry a degree of social prestige. The most prominent of such languages is Javanese, the native language of the Javanese people who inhabit the island of Java. Even though Java is much smaller in size than some other Indonesian islands, such as Sumatra, Kalimantan and Papua, it is the most populous of them and the true political and commercial center of the country. The nation's capital, Jakarta, is also situated on the island of Java.
Javanese, which is now spoken by over 100 million people, has the curious distinction of being the largest language in the world without any official status. Indeed, the nation's official language is Bahasa Indonesia, and although Javanese is in active use and it is taught in schools on Java, it does not enjoy official recognition beyond the local level. Nearly all speakers of Javanese are also proficient in Bahasa Indonesia.
The first inscriptions in Javanese are dated as far back as the 9th century, and the language has a very rich literary heritage. At various times throughout history, different writing systems were used to write Javanese, such as the Arabic script, Latin alphabet and the Javanese alphabet, derived from the Indian Brahmi script. Here's an example of the Javanese script:
The Javanese language is not a very common choice of language to learn in the West. In fact, very few universities in North America or Europe offer study programs in that language. The Internet can be a good source of valuable resources, such as this website or this introduction to the language.
To fulfill our tutoring mission of online education, our college homework help and online tutoring centers are standing by 24/7, ready to assist college students who need homework help with all aspects of Javanese. Our languages tutors can help with all your projects, large or small, and we challenge you to find better online Javanese tutoring anywhere.
Read More