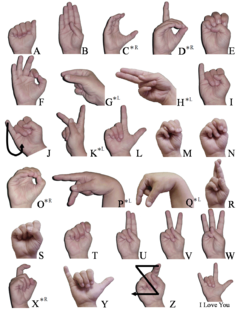 For many deaf persons, the preferred mode of communication is American Sign Language (ASL). ASL is a very diverse and rich language, and is used by many deaf, hard-of-hearing and hearing people, not only in America, but also in other countries around the world. ASL has certainly gained popularity in the past few years, with such shows as "Switched at Birth", which has non-hearing actors in it. Since ASL is the natural language of many deaf persons, they are usually grateful when others want to learn this language. There are some misconceptions and mistakes among the hearing that need to be addressed.
One issue among the hearing who study ASL is that they are not always taught the culture behind the language. Deaf culture is quite different from other cultures in such situations as asking appropriate questions or getting someone's attention.
To gain proficiency in ASL takes time, as it is a unique language that grows and changes over time, with new words that are always being incorporated into the vocabulary. The best way for you to improve your ASL is to practice, and to practice with deaf people. Learning from a book will only teach you vocabulary; communicating with a deaf person will teach you how and when to use the vocabulary and grammar correctly. Communication is both expressive and receptive.
Some useful information and resources for hearing impaired people can be found at The American Sign Language University (ASLU).
To fulfill our tutoring mission of online education, our college homework help and online tutoring centers are standing by 24/7, ready to assist college students who need homework help with all aspects of American Sign Language (ASL). Our languages tutors can help with all your projects, large or small, and we challenge you to find better online ASL tutoring anywhere.
Read More