The Relativistic Doppler shift
Consider a source of very short-duration electromagnetic pulses (e.g., a radar antenna) at rest at the origin of reference frame S. An observer moves in the x-direction at velocity v as seen in frame S. The observer is at rest in frame S'. Suppose a first pulse is sent at t = 0 when the observer is at position x = xo Further suppose the (n + 1)th pulse is sent out at t = nτ where τ is the period.
Carefully draw the Minkowski diagram (space-time diagram) for frame S identifying the two events representing the arrival of the first and (n + 1)th pulse at the observer.
Find the time interval between those two pulses in the observer's frame S'.
And therefore find the frequency ν' in the observer's frame in terms of the source frequency ν and the observer's velocity factor β. This is the relativistic Doppler shift.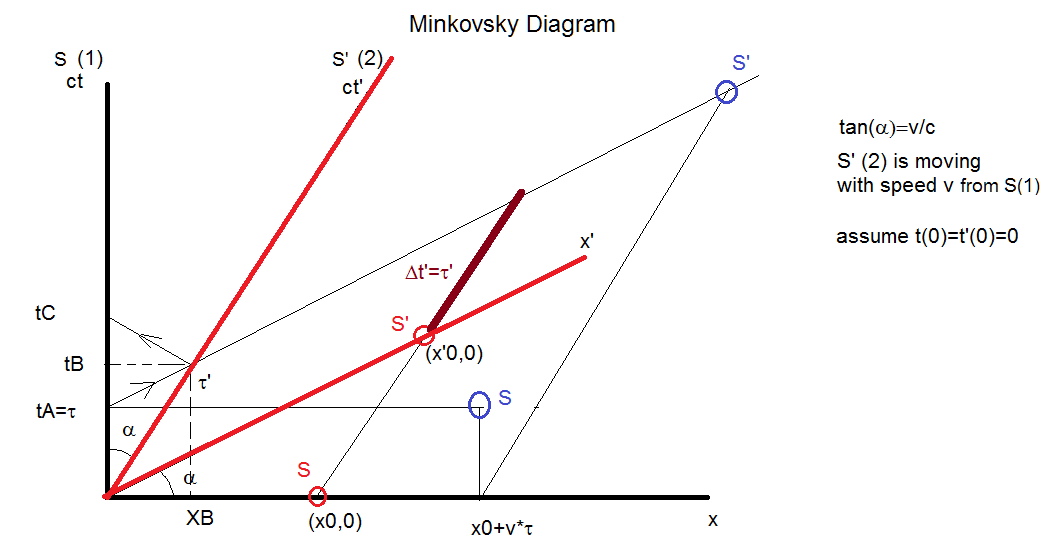 S'(2) is moving right with a speed v. S(1) is standing. At (X0,0) in S the first light is emitted. These events are the red circles in the S and S' axes. At (X0 + ντ,τ) in S' the second light is emitted. These events are the blue circles in S and S'. The interval is Δt' = τ' in S' (the brown segment). In S the interval is Δt = τ. Thus τ is the time between two consecutive emissions of light.
From the diagram we can immediately deduce that
The speed v of S' moving is

To find tB, suppose one has a mirror at τ' that reflects back the light emitted at tA = τ towards S. This light arrives in S at tC = K * τ' (from symmetry considerations). Therefore


Therefore the speed of S' is


To fulfill our tutoring mission of online education, our college homework help and online tutoring centers are standing by 24/7, ready to assist college students who need homework help with all aspects of relativity. Our physics tutors can help with all your projects, large or small, and we challenge you to find better online relativity tutoring anywhere.
Read More